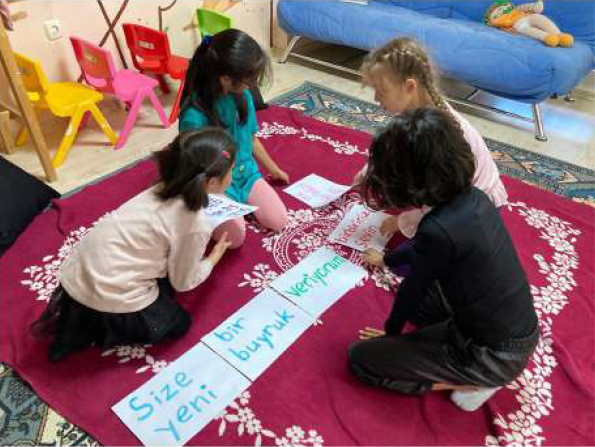 by

Jeff Steenholdt

13

Mar 2023
URC Missions Update - Pastor Coskuns Turkey
Dear brothers and sisters,
"Come now, you who say, 'Today or tomorrow we will go into such and such a town and spend a year there and trade and make a profit'- yet you do not know what tomorrow will bring. What is your life? For you are a mist that appears for a little time and then vanishes. Instead you ought to say, 'If the Lord wills, we will live and do this or that"' (James 4:13-15). This passage has been in my mind more than any other passages in the Bible since February 6 when two earth­ quakes hit southeast Turkiye. I am writing you on March 7, but we dreamed of a quite different March 7. We were sup­ posed to do different things by March 7 but right now we are trying to return to our daily routines. Yet, I would like to tell you about the work that the Lord allowed us to do during the last two months.
Gulden organized a winter camp for girls in. our church during the winter break. We called it "Mucevherler Kamp1" which means ''Gems' Camp." Gulden translated the necessary materials from English to Turk­ ish and did a fantastic job for four days. Four girls could join the camp and they loved it. Gulden was so encouraged to see their reactions. These kinds of times are so precious for these girls because usually the only time they get to spend with other Christian friends is Sundays. Now, Gulden is planning to start a new Bible study series with kids on Sunday. Lord willing, it will also help our kids to grow spiritually.
Several months ago, a young couple came to our church. The boy says he is a Christian, but the girl says she is a Muslim. I had the opportunity to share the gospel with her several times. They also attended our Bible Studies on Wednesday. It is apparent that the Spirit is at work in her heart, so I suggested to her that we should start baptism classes this month, which will take at least six months. I hope and pray that she will come to the point of confessing her faith during these classes. So please pray for her, may the Lord continue to work in her heart and bring her to the gospel. 
Another young -but this time Christian- couple decided to join our church last month. They seem to love our church quite fast! They are eager to learn and very excited about being a part of our church family.
Gulden was counseling a woman who was abused when she was a kid. She has been struggling with depression since then. Having been meeting with her for two months, Gulden convinced her to include me in their meetings, because as one of her pastors, I wanted to help alongside with Gulden. We began to meet all three ofus two weeks ago. It has been going better than I expected, which encourages us, however, what she had gone through is so devastating. Please pray for this woman, may the Lord keep her safe in his arms, and may the love of the Spirit heal her broken heart.
We are sending another team to the disaster zone that con­ sists of two young men from our church. They will be in the disaster zone for a week and provide essential needs to the victims. They will also gather more information for our future. goal; to provide shelters for Christian disaster victims. This won't be the last team that we are sending. Lord willing, we will send multiple teams to the disaster zone in the future because of the scale of destruction.
Thank you so much for your prayers and support! Please pray that may the Lord be praised through our actions and words. May the Lord save many from the kingdom of darkness and bring them to the light of the gospel