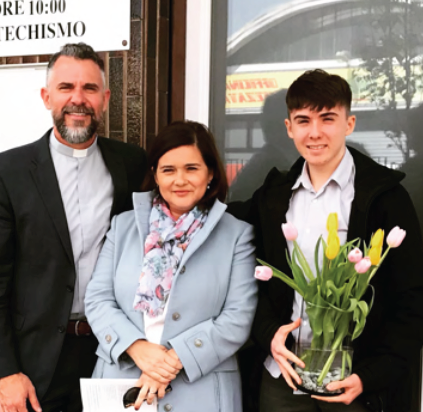 by

Jeff Steenholdt

01

May 2023
Mission Milan May 2023
Great Is Thy Faithfulness
By God's grace, His Word and Sacrament continue week in and week out at Chiesa Riformata Filadelfia. I am currently preaching through the book of Exodus in our worship service and teaching through the Westminster Shorter Catechism in our catechism service. We have also been learning to sing the Psalms. During our catechism service, we often sing a psalm that is new to our congregation before introducing it in the worship service. One of our long-term goals is to compile and publish a psalter-hymnal in Italian that can be used in the future Reformed denomination. Please pray that Chiesa Riformata Filadelfia will remain faithful to worship the Lord in reverence and awe and preach His glorious gospel boldly and in love.
New members.
We give thanks to God for a new family in membership:
Francesco & Maria Pinelli, Giuseppe Canta (Maria's father), and Lia Pinelli (Francesco's mother). This dear family has faithfully attended our church for some time and has been a blessing as they regularly serve and participate in the life of the church. Recently, they completed a ten-week new member's course which I taught in their home. They love the Lord, his gospel, and his church. Francesco is also an accomplished pianist and has recently begun serving as an accompanist during worship. Please pray for their continued growth in the faith. They are pictured tbelow.
Monthly Men's Meeting. 
Our monthly men's fellowship, "Uomini del patto" ("Men of the Covenant"), is going strong and has been a blessing to those who attend. In this group, there are about fifteen to twenty men ranging from ages 17 to 84. We pray for one another, sing psalms and hymns, and study a book together. Right now, we are still going through R.C. Sproul's The Holiness of God, which has recently been translated into Italian (La Santità di Dio). Afterward, in typical Italian fashion, we eat a pizza together. :)
Ladies' Fellowship.
Janie continues to lead a monthly ladies' fellowship. They are currently reading and discussing the book, Rediscover the Church: Why the Body of Christ is Essential, by Jonathan Leeman. The group also recently finished Nancy Guthrie's book, God Does His Best Work with Empty. Janie says, "It's a joy for the ladies to meet, discuss the book, and pray together. It's a challenge on two fronts; first, the lack of Christian books to choose from in Italian, and second, it's a humbling experience to lead the group discussion in Italian. Please pray that this small group would grow and flourish in the faith!"
Family matters.
Please pray for Iain as he begins to explore potential colleges and universities to study after high school. He is scheduled to graduate in June of next year (2024), and wants to study medicine. We are not yet sure if he will study here in Italy or in the States. Please pray that the Lord gives us wisdom and direction while we navigate the various options, and that he guides Iain along the way. Please also continue to pray that the Lord provides Iain with one or two Christian friends.
Over these past four and half years, the Lord has been faithful to Janie, Iain and me, helping us to master the language and adapt to a new life. By God's grace, we are all healthy physically and continuing to grow spiritually. I confess that we miss our family in the States, and it sometimes feels lonely. Yet, we are comforted by our family in Christ here in Milan and feel privileged to make our pilgrimage with our brothers and sisters of Chiesa Riformata Filadelfia.
As I look at myself in my weakness, I know that I cannot possibly make any spiritual impact on the hard soil of Italy and the utter worldliness of its most global city, Milan. Yet, I do expect that God will. Our confidence is not in ourselves or our abilities, but in Christ and his Gospel. Thank you for your prayers, encouragement, and support!
For more extensive updates on Mission Milan, visit our website: