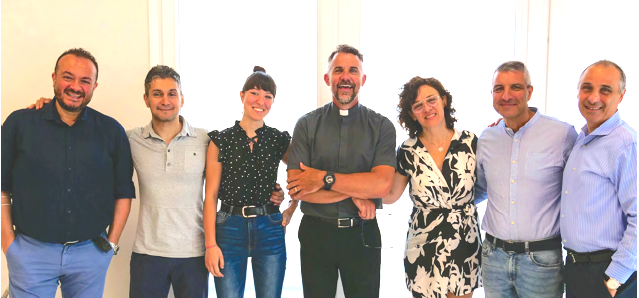 by

Jeff Steenholdt

01

Aug 2022
Mission Milan - July 2022
Welcome New Members
This past month, our congregation received four new members: Nello De Risi and the Del Conte family: Pietro, Anna, and Angelica, all of whom live in the city of Torino, which is more than an hour from Milan. Because there are no established Reformed churches in Turin, these saints sought out Chiesa Riformata Filadelfia as their church home. They completed the new members' course, interviewed with the Consistory, and made public vows. We are praying that God will send an ordained minister and missionary to plant a Reformed church in Turin in the future.


Visit to the United States
Janie, Iain, and I were able to go the U.S. for two weeks in order to visit three supporting churches and see our family. As I have said in the past, it is not preaching in a second language or adapting to a new culture that is the hardest part of being a foreign missionary. The hardest part is not being able to see our family more often. Our daughter Kayla and her husband Caleb live in South Pasadena, CA, and our son Isaac, as well as our daughter Alysia and her family, live in Vermont. In God's kind providence, we were able to spend five days together at my parents' house in Pagosa Springs, Colorado. Although our time together was brief, it was nevertheless an enormous blessing and encouragement to us. We were also able to spend several days with Janie's dad, Jose, who is 85 and lives in Menifee, CA with Janie's sister. We also saw her brother, another sister, and two neices. It was a special time for which we are very grateful. Seeing our family in the States at least once a year is important for our mental health. We hope that in the future we can find a way to see our children and grandchild more frequently.


On Sunday, July 17, I had the opportunity to preach in the worship service at my former church, Christ URC in Santee, CA. Janie, Iain, and I had not visited this dear congregation since our departure for Italy four years ago. This is the church I was called to plant in 2003 and subsequently served for fifteen years. After the worship service, I gave a presentation on Mission Milan. We then enjoyed a splendid lunch with the congregation. Janie and I were able to catch up with many friends and loved ones. It was a tremendous blessing to renew fellowship with Christ URC, a congregation that will always hold a special place in our hearts.

Church picnic
On a hot Sunday afternoon after worship, our congregation enjoyed an italian "grigliata" (BBQ) in a nearby park. It was a great opportunity for the church to eat, talk, and laugh together for a few hours. Due to covid
restrictions, we have not been able to have a picnic in the park since 2019. Despite the intense heatwave that hit much of Europe, it was a blessing to be outside together. We plan to make this an annual event, along with our regular fellowship meals in the church. We are thankful to God for the ways in which he cultivates our fellowship and makes us a family through the gospel.
EMAIL PASTOR MIKE:   mgbrown1543@gmail.com
VISIT OUR WEBSITE:   missionmilan.org