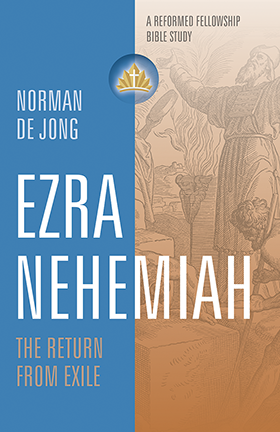 by

Amber Antozak

05

Mar 2022
Book Review: Ezra/Nehemiah by Norman De Jong
Book Review: Ezra/Nehemiah, The Return from Exile by Norman De Jong
272 pages, published by Reformed Fellowship, Inc.
Ezra and Nehemiah are not the easiest books in the Bible to understand and apply. With a confusing timeline, repetition of major themes, and several chapters dedicated to long lists of Hebrew names, it's easy to give these books a quick reading without thoroughly understanding them. Norman De Jong does an excellent job explaining these books and more in his recent book, Ezra/Nehemiah: The Return from Exile.
De Jong starts his study with four questions that we should keep in mind as we read the Bible:
What is God doing in this passage?
What is God saying in this passage?
How are God's people responding to God's actions and words?
How should you and I respond today?
As De Jong takes us through the books of Ezra and Nehemiah, he does a very good job of answering these questions without speculation. I especially appreciated his treatment of difficult parts of Scripture. For example, he says, "If we focus only on the long lists of names that fill Nehemiah 11, we will easily be disappointed. We might see little or no benefit in spending time in this chapter . . . To avoid that, we need to be reminded that 'all scripture is breathed out by God and profitable' for a number of reasons (2 Tim. 3:16)." De Jong then goes on to explain the sad situation that got the people of Nehemiah's day into the mess, and why we see this long list of names. He highlights a couple of names that are repeated throughout the book, names that may not seem to most as significant, such as who the high priest was and why his participation in a certain activity was meaningful.
De Jong does not shy away from the difficult parts of the books, at times explaining two alternate understandings of the text and taking us through his reasons for his conclusion. I appreciated his willingness to engage in the timeline of the book, as well as bring in some of the minor prophets who prophesied during the days of Ezra and Nehemiah.
The background readings show a thorough approach to the text as well as provide meaningful context, especially for a beginning student of Scripture. Each chapter has eight to ten discussion questions provided as well. For a group Bible study, here are two main suggestions: First, split up the discussion questions among the group. They are well written but quite time-consuming, and the average Christian might find it difficult to complete all of the questions. Second, split up the background readings for the same reason. The portion of the Book on Ezra has the notes numbered, but it was confusing as to how the numberings correlated with either the Scripture reading or the discussion questions. The Nehemiah portion of the book did not have the numberings and was easier to read and flowed better.
De Jong's book helps the reader to become much more familiar with the books of Ezra and Nehemiah, as it is a good study guide and resource for both individuals and groups.
View more about the book in our bookstore
..............................................
Mrs. Vanessa Le is a wife and mom to four children age six  and under. She enjoys reading, playing the piano, studying theology, and generally being Mommy. She is a member of Orlando Reformed Presbyterian Church in Orlando, FL.