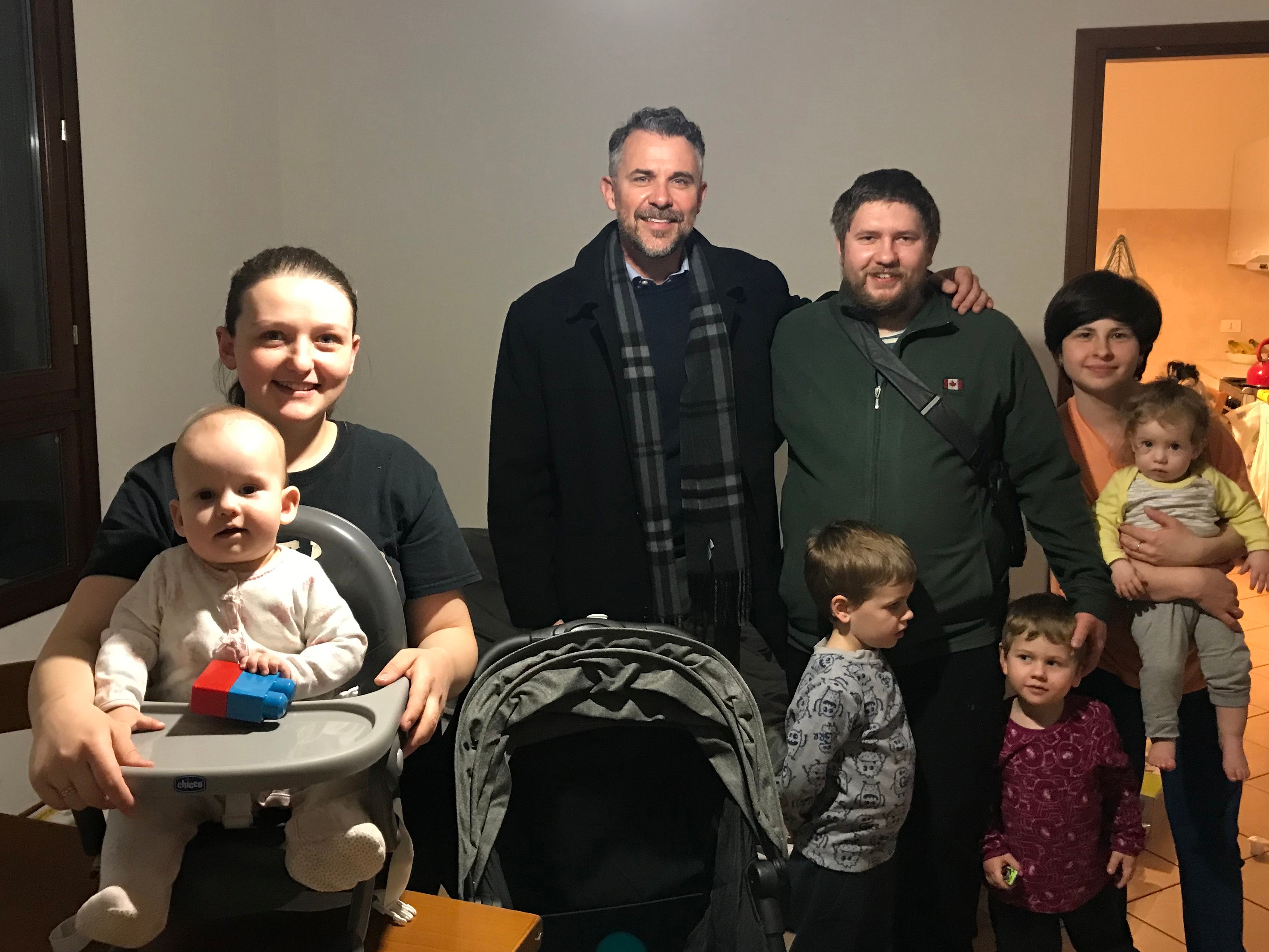 by

Jeff Steenholdt

07

Apr 2022
Ministering to Ukrainian Refugees in Milan - April 2022
Dear brothers and sisters in Christ,
First, I want to update you on the Ukrainain refugees who are among us. If you did not have a chance to read their amazing stories in my update on March 14, please do so on our website: www.missionmilan.org. By God's grace, Alena Fedchishina, the Argakov family, and the Chygrynova family are doing well, despite their traumatic experiences of fleeing thier homes in Kiev and Kharkiv and making a long and dangerous journey to Milan. Your donations helped us to secure housing for all of them, provide funds for food and clothing, and take Voldomyr's car to the mechanic for some much needed repair. All of them are attending our church every week. Alena is our resident interpreter, translating the sermons from Italian into Russian. We were also able to purchase headsets for the refugees so that they can hear the translation more comfortably.
Everyone is waiting to see what will happen with the war. In the meantime, these refugees have applied for residency permits here in Italy. We are doing all we can to help them feel welcome.
Sending Humanitarian Air to the Presbyterian Church in Kharkiv
I have been in contact with Rev. Marko Argakov, the pastor of the Presbyterian church in Kharkiv and also Voldomyr's older brother. He is still in Kharkiv, seeking to minister to the remaining members of his congregation and bring humanitarian help to many people in the community. Due to your donations, we were able to send €5,000 worth of medicine and non-perishable food to them, whihc have been distributed to some very needy people in Kharkiv. It is amazing to see God's people around the globe helping one another, bringing light into the darkness.
How you can help.
The mission in Milan to make disciples of Jesus Christ is only possible with the faithful prayers and generous contributions of people like you. Please consider partnering with us in fulfilling the Great Commission in Milan, Italy. Your donation helps!
You can give online at: missionmilan.org. Or send a check to:
Escondido United Reformed Church 
1864 N. Broadway 
Escondido, CA 92026
Attn: Mission Milan
Checks should be made out to Escondido United Reformed Church. Please indicate that the support is for Rev. Michael Brown as a missionary to Milan, Italy.
Milan expects some 40,000 people to arrive from Ukraine. As you have probably heard, more than ten million people, mostly women and children, have been displaced from their homes because of the war. It is the largest mass migration since World War II. As refugees come to Milan, we want to be ready to assist them in their basic material needs and to bring the Gospel to them.
Thank you so much for your prayers and generosity. For the moment, it appears that we are sufficiently supplied to assist the eight refugees in our church. We are committed to their care. We ask you to please remember Alena, the Argakov and Chygrynova families in your prayers, as well as peace for Ukraine and Europe.
New Deacon
On Sunday, March 20, we ordained and installed Mr. Tonino Bellito as a deacon. Tonino is a tender-hearted, faithful man of God who loves the church and loves to serve others. He is an outstanding example of a joyful, selfless servant. It was a blessing to witness his vows of ordination and hear his heartfelt gratitude as he expressed his thankfulness to God and the congregation for the opportunity to serve. We trust that he will be a blessing to us for many years in the future, as he has for many years in the past.
EMAIL PASTOR MIKE:   mgbrown1543@gmail.com
VISIT OUR WEBSITE:   missionmilan.org